Tuesday, April 13th, 2010
---
5:43 pm
- New Arts
5:34 pm
- Kick Girl 3
hey guys! i haven't updated in foreverrrrrr. and i feel just horrible about that.
so, i'm going to post part of KG issue #3 here for you to see!
sorry if you've already read it, and this is nothing new!
and sorry if you haven't read any KG at all! it doesn't make any sense anyways. so, you're good. :0
the sad truth of it all is, i'm totally rebooting everything anyway. and it's totally going to be different. (and a million times better in every way. and actually make sense. hopefully.)
still, i hope you enjoy these pages! :D

(
Kick Girl #3 comic pages
Collapse
)
Monday, June 22nd, 2009
---
1:42 am
- KG3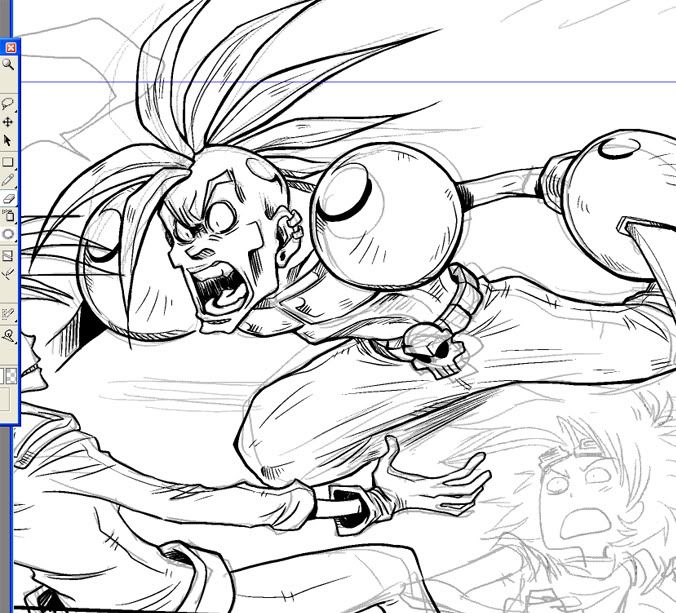 a work in progress on a page i started tonight.
i'm still not done with issue 3 yet. it might exceed 50 pages. how terrifying is that?!
Friday, May 22nd, 2009
---
12:53 am
- whaaaaaaaat.

posting this just for fun. i haven't been drawing much.
i'm determined to make the new story as unexciting for you as possible by showing you as much as i can before you can actually read it. HA.
is the art getting any better since i started this crazy thing? jeez. i hope so. :'C
Tuesday, April 14th, 2009
---
11:45 pm
- pfffffffffffff-!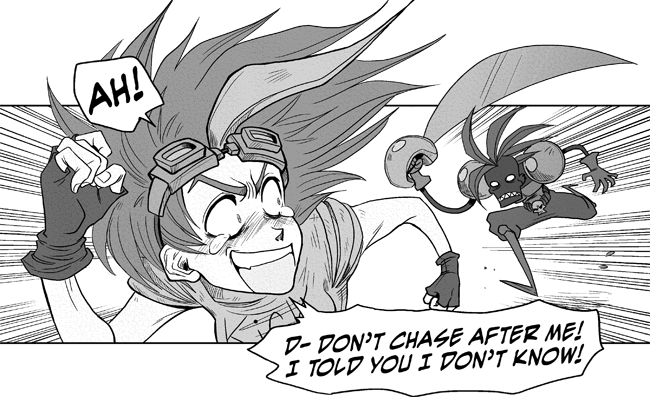 god. i wouldn't be posting more samples again so soon if this pannel didn't make me laugh every time i looked at it.
i don't think i've drawn a proper face on Skull for three pages now.
Wednesday, April 8th, 2009
---
4:22 am
- kay-geeee

i'm pretty determined to ruin this for you before you can read it. :X
i like this page because its so goofy-ass.

i need to work on this comic like, NOW.
it's GO TIME. and we're in the final quarter!
Saturday, April 4th, 2009
---
1:27 am
- now i am up in arms again

WELCOME TO MY BAND!
well, my third band! after Mystery Babylon and 500 Gay Robots.

ohohohohohohohohohohohohoho.

i guess i missed some ustream pictures from my last post.
sorryyyyyyyyy. i'll post all the ones i missed + new ones soon.
Saturday, March 21st, 2009
---
2:24 am
- Ustream Requests~! :D
Wednesday, March 11th, 2009
---
4:24 am
- Milk & Honey
hey guys! it's that time again! :D :D :D
MASSIVE art dump today. i've got more than EVER probably!
the typical doodles, ustream gift arts, and some old comics too!



(

click ze links to see ze artsCollapse

)
Thursday, January 8th, 2009
---
1:41 am
- ehehehehahahahohoho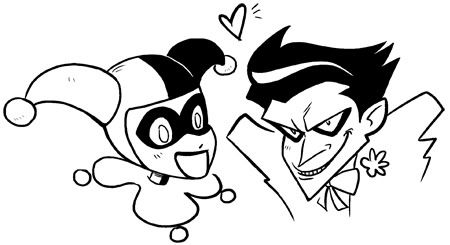 i've been so crazy busy lately i have not even had time to doodle things. :'C
i promise an art journal update sometime soon!
here, in the meantime, have the fastest doodlesketchthing ever.
Thursday, November 6th, 2008
---
2:57 am
- Get it UP
can't sleep. so instead, i made this terribly crappy flash thing:
Get it Up (rough)
i wanted to do the whole rest of the song, but, i lost steam ahaha.
i'm suprised i even got that far. i start billions of these and never make it past 3 seconds.
song is by Mindless Self Indulgence. my fav. :0

yessssss. i'm retarded. :|

you should listen to the whole song here.
Friday, October 31st, 2008
---
1:05 pm
- Old Comics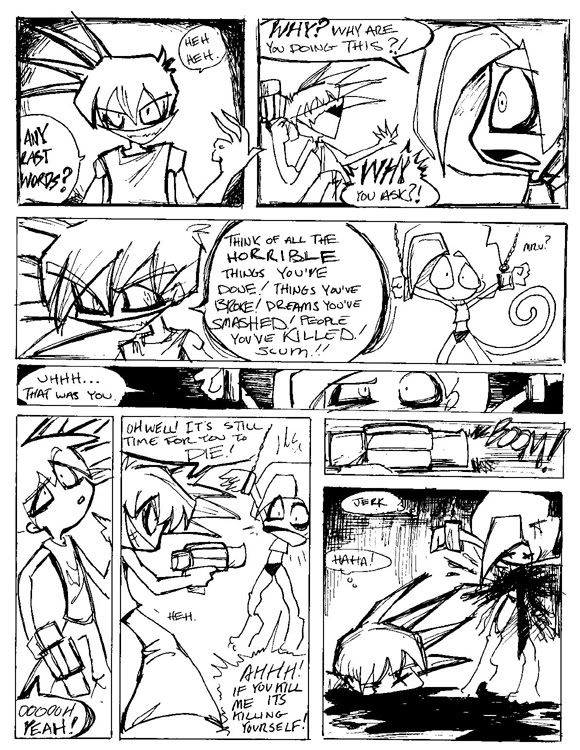 here's a comic i made back in 2000-and-frick'n-1.
back when i was 18 and was going through my i-want-to-draw-like-jhonen-vasquez phase that every 18 year old has. hahaha
it's pretty much an early version of KB and KG. if you get an eerie sense of KG-comic-foreshadowing, you would probably be correct.
Saturday, October 18th, 2008
---
2:55 pm
- Finished Cruds

here's that last scribble-page as a finished page! woohooooooo.
ahaha. i think i'm hilarious.
Friday, October 17th, 2008
---
7:22 pm
- Crappy Arts! :D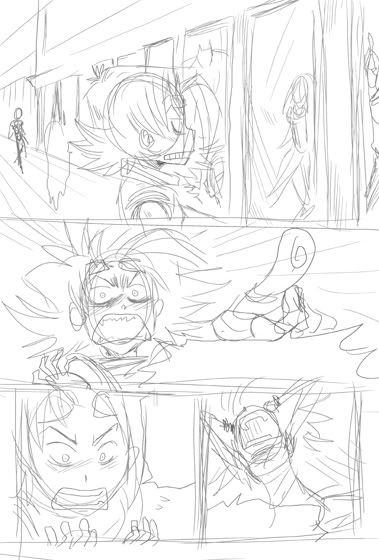 here's a sample of a page i just started.
this is the very first stage. sometimes i start inking right from here.
(maybe that's why my comic sucks. ahahahaha)
anyways. it's crappy and hilarious and i like it.
i'll post the finished page here in a day or two when i finish it.
so you can see the comic-making MAGIC!! :0
Saturday, October 4th, 2008
---
10:55 am
- Bonds
i was looking through some of my older art posts the other day. and it almost made me feel sick to my stomach looking back. ahaha. but it's kinda scary no matter how much things change, how some things always stay the same. i'm still retarded in the same ways as i was back then! wowee! and you can kind of see a progession in my art too.
step into my goofy nerdy time machine! ohhoho
--------------------------- College @ RIT
12.11.2004
04.03.2005
06.04.2005
08.13.2005
09.15.2005
--------------------------- Phoenix, AZ
12.09.2005
04.15.2006
crazytown.
Monday, September 29th, 2008
---
11:51 pm
- Lulz

just another little sample from KG comic in-progress cruds.
Friday, September 12th, 2008
---
7:38 pm
- Rainbow Flower Power

i've been dying to put this in the comic since i drew this doodle in my sketchbook. ahaha.
just one of those little things that keep me goin. :0
Saturday, September 6th, 2008
---
4:36 am
- Crappiest Art Dump Evar.
hey everyone! i'm really sorry it's been so long since i've had a real art-dump!
or i should start calling it a "sketch-dump" from now on? since 99% of this is doodlecrap. :c
i'd like to remind you all that i update my blogger much more frequently. No art-dumps, but little pictures and stuff. you can read it here or here.
i feel really bad for the lack of quality on a lot of this stuff... since i finished school, i don't draw in my sketchbook nearly as much. and when i do draw, its typically Kick Girl comic stuff. well, i still hope you like what i've got! there's a LOT! ahahaha~



(

5000 million sketchy art-dump doodlinks ahahahaCollapse

)
Wednesday, June 25th, 2008
---
1:12 am
- hahahahahaaaaa... @ @;;

i'm really working hard to crank out these last few pages of my KG comic,
for the special 50-page San Diego Comicon issue!
it really should be finished by now... but i'm always doing things last minute. :B
hopefully, in a week's time, it'll be finished and off to the printers!
it takes off right after where issue #1 ended. i really hope you guys like it!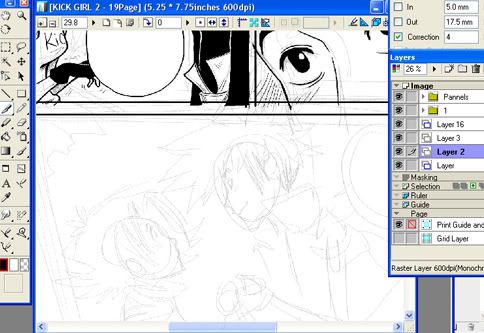 Monday, June 16th, 2008
---
3:03 am
- :D